Category: Colorado
---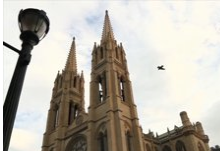 filmed & edited by: Jon Ervin, Jake Machado, Seth James DeMoor
Published on: 20th May 2014 — 12:43 PM / OBS: North America
Connect
---

Click here to watch more stories on the life of John Paul II
CONNECT & COMMENT BELOW
Published on: April 23rd 2014 — 10:09 AM / OBS: NORTH AMERICA / Denver, Colorado
OneBillionStories.com Contributor - Seth DeMoor / @1BillionStories
---

produced & edited by: Seth James DeMoor / music by: Pompeii, David Tolk
My Family Life was not Easy on the Western Slope
"God kept His promise, He did not let me die."
Published on: December 19th 2013 — 1:03 PM / OBS: North America / DENVER, CO
OneBillionStories.com Contributor - Seth James DeMoor
@SethJamesDeMoor — 303.709.3804
CONNECT & COMMENT BELOW
RELATED STORIES
---

When I moved to Boulder, my Faith took off
'I'm going to give you this gift, I want you to use it for my glory.'
Published on: 27th August 2013 — 1:03 AM / OBS: North America
produced & edited by: Lisa Driscoll, Seth James DeMoor / music by: Cardiac Move
BOULDER, CO, USA — Colorado Triathlete Brad Seng resides in Boulder Colorado where he trains for triathlons as a professional athlete. Can you imagine swimming for 2.4 miles, biking for 112 miles, and just to make sure you do not have too much energy left over, run a full marathon of 26.2 miles? Those three events are run back to back to back (in 1 day!), and is exactly what Brad Seng trains for as a Triathlete in Colorado. The rigors and discipline create quite the training regimen. … Read More »
---

'We felt the need to join a community of young married couples'
The most important gift we can give our children is to help them build a personal relationship with God
Published on: May 23rd 2013 — 6:39 PM / OBS: North America
DENVER, CO, USA — In the state of Colorado, the honoring and celebration of God's perfect plan for the foundation of society, marriage between man and woman, is growing holier by the day. Young married couples are sprouting up everywhere. One of those young families is the Paredes family, who have five wonderful children.
Seth J. DeMoor
Founder & Video Missionary, USA
GET UPDATES FROM SETH DEMOOR
music by: Farewell Milwaukee, Loudon Wainwright III
Within the Catholic faith, we believe that God is truly the genius and foundation of society. In order to perpetuate the human family into the … Read More »
---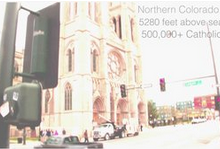 '…I Will Make You Fishers of Men'
Archbishop Samuel J. Aquila of Denver ordains seven men to the Catholic priesthood
Published on: May 20th 2013 — 10:09 AM / OBS: North America
music by: St. John Vianney Theological Seminary - Denver, CO
DENVER, CO, USA — Twenty years after World Youth Day 1993 in Denver, vocations to the priesthood in the Mile High City are on the rise. Strong evidence for the infusion of the Holy Spirit's work in northern Colorado was on display at the Cathedral Basilica of the Immaculate Conception this past Saturday, as seven men laid down their life in service to Christ's priesthood. Through God's grace, and these men's "YES" to Christ's call, the Archdiocese of Denver received a huge boost of 'ardor' for the future work of the Church and the New Evangelization.
Seth … Read More »
---

Holy Family Students are Being Prepared Daily for 21st Century Challenges
"Holy Family High School continues to represent the best of Catholic education in Colorado, and across the United States."
Published on: April 16th, 2013 — 3:49 PM / OBS: North America
BROOMFIELD, CO, USA — Over the past 6 months, OneBillionStories.com has had the privilege of working with Holy Family High School for the production of this highlight reel on their amazing school. We say "privilege", because the tremendous responsibility of solid Catholic education in the 21st century is in many ways in the hands of this school; and our team was blessed to tag along for the tremendous ride! (more below)
Seth J. DeMoor
Video Missionary, North America
GET UPDATES FROM SETH DEMOOR
music by: Josh Garrels, AWOLNATION / filmed & edited by: Seth James DeMoor
This highlight video is … Read More »
---

Choices in Life can Break Hearts, but God's Mercy Brings us Through
"This choice breaks more than one heart, this choice breaks more than one heart…"
Published on: April 15th, 2013 — 1:34 PM / OBS: North America
DENVER, CO, USA — Listen closely to the lyrics of this song by Michelle Marie Mandico as she performs live, "Breaking Hearts." The message of life, love, and mercy pour forth from the notes of Michelle. And the challenges in this century for babies in the womb only continue to increase. As Catholics, we, the 'one billion' member family, must continue to use beauty to pierce the heart of this culture of death we live within. (more below)
Seth J. DeMoor
Video Missionary, North America
GET UPDATES FROM SETH DEMOOR
music by: Michelle Marie Mandico / filmed & edited by: Seth James DeMoor
"Breaking Hearts," … Read More »
---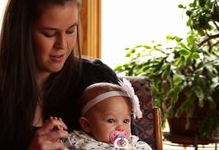 I was that Girl that Could Not Say No
'God pierced my soul when I was all alone, wandering in the darkness'
Published on: April 15th, 2013 — 11:19 AM / OBS: North America
GREELEY, CO, USA — Her world was turned upside down. She was single. Alone. Afraid. Her 21st birthday party led to trying moments, in the middle of college. Abusing alcohol led to decisions, choices, defining life moments, and eventually a little life inside of her; a little baby girl moving, breathing, and learning the love of this world through the womb of her mother. A place, the womb of a mother, which was once considered the safest place on earth for babies. (more below)
music by: David Thies, The Album Leaf, As Colorful as Ever / filmed by: Jon Ervin, Seth James DeMoor / edited by: … Read More »
---

I Want to Serve a Church that is Vibrant
"You are a priest forever according to the order of Melchizedek"
Published on: March 27th, 2013 — 8:09 AM / OBS: North America
DENVER, CO, USA — "I wanted to be part of something bigger than myself." Those words from Deacon Nathan Goebel are powerful, and rare in the 21st century. Do those words from the good Deacon resonate in your life? Better yet, will those words resonate in the streets of Denver over the next 5, 10, even 20 years from now? (more below)
Seth J. DeMoor
Video Missionary, North America
GET UPDATES FROM SETH DEMOOR
music by: The Tallest Man on Earth, The Album Leaf, Modest Mouse
This short video and vignette on the faithful and lighthearted 'Man of God'(as pointed out by his coffee mug) from Illinois, now serving the Archdiocese … Read More »