Category: G
---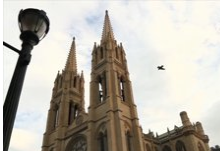 filmed & edited by: Jon Ervin, Jake Machado, Seth James DeMoor
Published on: 20th May 2014 — 12:43 PM / OBS: North America
Connect
---

The Farming Life is like World Youth Day
'World Youth Day really brought the universality of the Church into my life experience'
Published on: July 16th 2013 — 1:28 AM / OBS: North America
STRASBURG, CO, USA — Our team is in Rio de Janeiro for World Youth Day 2013, but before our Video Missioanries start publishing stories from Brazil, we would like to publish one more story from Colorado. The young men in today's video, despite their distance from the Brazil, are able reflect well on World Youth Day moments from their personal stories. Most specifically, the grand event in Madrid in 2011 with Pope Emeritus Benedict XVI. (read more below)
Seth J. DeMoor
Founder & Video Missionary, USA
GET UPDATES FROM SETH DEMOOR
produced & edited by: Ian Lee & Seth James DeMoor
Join our team & help OBS create … Read More »
---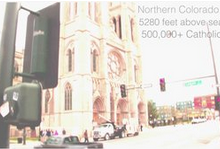 '…I Will Make You Fishers of Men'
Archbishop Samuel J. Aquila of Denver ordains seven men to the Catholic priesthood
Published on: May 20th 2013 — 10:09 AM / OBS: North America
music by: St. John Vianney Theological Seminary - Denver, CO
DENVER, CO, USA — Twenty years after World Youth Day 1993 in Denver, vocations to the priesthood in the Mile High City are on the rise. Strong evidence for the infusion of the Holy Spirit's work in northern Colorado was on display at the Cathedral Basilica of the Immaculate Conception this past Saturday, as seven men laid down their life in service to Christ's priesthood. Through God's grace, and these men's "YES" to Christ's call, the Archdiocese of Denver received a huge boost of 'ardor' for the future work of the Church and the New Evangelization.
Seth … Read More »
---

Holy Family Students are Being Prepared Daily for 21st Century Challenges
"Holy Family High School continues to represent the best of Catholic education in Colorado, and across the United States."
Published on: April 16th, 2013 — 3:49 PM / OBS: North America
BROOMFIELD, CO, USA — Over the past 6 months, OneBillionStories.com has had the privilege of working with Holy Family High School for the production of this highlight reel on their amazing school. We say "privilege", because the tremendous responsibility of solid Catholic education in the 21st century is in many ways in the hands of this school; and our team was blessed to tag along for the tremendous ride! (more below)
Seth J. DeMoor
Video Missionary, North America
GET UPDATES FROM SETH DEMOOR
music by: Josh Garrels, AWOLNATION / filmed & edited by: Seth James DeMoor
This highlight video is … Read More »
---

My Idea was to Give One Year of Volunteer Service
"No one can give what they don't have."
Published on: April 11th, 2013 — 8:07 AM / OBS: SOUTH AMERICA
CUSCO, PERU — A story for you today from Cusco, Peru in Spanish with English subtitles focusing on discernment through missionary service. We bring you the testimony of two men giving service to the poor with the Missionary Servants of the Poor (Opus Christi Salvatoris Mundi www.msptm.com/en/ )
The first man you see in the video is Fr. Pierfilippo Giovanetti from Italy, and the second is Eduardo Pardo from Barcelona, Spain. They both went to Cusco with the idea that they would give one year of service to the poor. (read more below)
Annie & Al Palmquist
Video Missionaries in South America
GET UPDATES FROM
ANNIE & AL PALMQUIST
[email protected]
produced: Annie & Al Palmquist … Read More »
---

I Want to Serve a Church that is Vibrant
"You are a priest forever according to the order of Melchizedek"
Published on: March 27th, 2013 — 8:09 AM / OBS: North America
DENVER, CO, USA — "I wanted to be part of something bigger than myself." Those words from Deacon Nathan Goebel are powerful, and rare in the 21st century. Do those words from the good Deacon resonate in your life? Better yet, will those words resonate in the streets of Denver over the next 5, 10, even 20 years from now? (more below)
Seth J. DeMoor
Video Missionary, North America
GET UPDATES FROM SETH DEMOOR
music by: The Tallest Man on Earth, The Album Leaf, Modest Mouse
This short video and vignette on the faithful and lighthearted 'Man of God'(as pointed out by his coffee mug) from Illinois, now serving the Archdiocese … Read More »
---

A Maryknoll priest, "Padre Miguel" as we knew him was a lifesaver for me while serving as a lay missioner in the town of Okinawa, Bolivia.
Video composed by Fr. Mike's niece, Molly, and her husband.
---

Good day OneBillionStories.com fans. The video above, and the excerpt below, is a snapshot into the life of Toni Garrett, a hopeful aspirant for the Sisters of the Holy Family of Nazareth. Watch the video and read below to learn about her story and how you can help her follow God's path of vocation. Click the Labouré Society logo below to learn more about Toni's story.
A vignette of Toni's story: "God and I grappled with one another for four years and finally arrived at a fork in the road. My spiritual director asked me a simple question that changed my life – "What do you hope for?" This question launched me into a conversation with God about the future that He and I had never been in before and it honestly never occurred to me that my Lord would have … Read More »
---

Patricia Gallo es una psicóloga que se dio cuenta de que no tuvo nada bueno que ofrecer al Señor. Llegó en un sueño la idea de abrir un refugio para las madres embarazadas pensando en abortar, luego fue confirmado en las escrituras y sus oraciones y en sus superiores franciscanos. Con la ayuda de Lumen Dei, abrió un centro de apoyo para las madres embarazadas ofreciendoles como llevar a cabo sus embarazos y criar a sus hijos. Luego recibió el regalo de una casa en que usó para abrir un refugio donde viven madres y sus bebes. También hablaron 3 mamás quienes viven en esta casa, y ellas hablaron sobre su decisión de no abortar, y como ahora están animados por sus bebes para seguir adelante y mejorar a si misma. Muy linda experiencia por nosotros poder visitar a Patricia … Read More »
---

Today's story arrives from the 7,107 islands of faith in the Philippines. Fr. Domie Guzman discusses with OneBillionStories.com's Contributor, David Panlilio, about the importance remaining vigilant to the spiritual attacks that are happening in today's society. At the end of the interview Fr. Guzman gives a great plug for the necessity of using the new media to turn back the tide of spiritual warfare through the power of the Internet and prayer.