Category: Bishops
---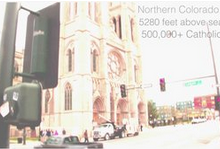 '…I Will Make You Fishers of Men'
Archbishop Samuel J. Aquila of Denver ordains seven men to the Catholic priesthood
Published on: May 20th 2013 — 10:09 AM / OBS: North America
DENVER, CO, USA — Twenty years after World Youth Day 1993 in Denver, vocations to the priesthood in the Mile High City are on the rise. Strong evidence for the infusion of the Holy Spirit's work in northern Colorado was on display at the Cathedral Basilica of the Immaculate Conception this past Saturday, as seven men laid down their life in service to Christ's priesthood. Through God's grace, and these men's "YES" to Christ's call, the Archdiocese of Denver received a huge boost of 'ardor' for the future work of the Church and the New Evangelization.
Seth J. DeMoor
Founder & Video Missionary, USA
GET UPDATES FROM SETH DEMOOR
Read More »
---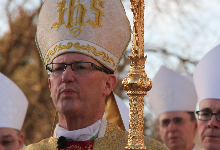 'Let them be born in wonder'
The seeds of my conversion began in Kansas; the rhythms of the rural life are at the heart of my spiritual life
Published on: November 23rd, 2012 — 7:27 PM / OBS: North America
LINCOLN, NE, USA — By God's grace, this mission is often blessed in road trip type traveling across this great nation, in pursuit of the inspiring personal Catholic stories. The most recent adventure across state lines brought our video missionary team to the cornhusker state, Nebraska. Traversing the fields of corn in our 1996 Subaru came to fruition because of one man, the now famous (in northern Colorado) Bishop James Conley.
Seth J. DeMoor
Founder & Video Missionary, USA
GET UPDATES FROM SETH DEMOOR
music by: Gregory Alan Isakov, Cold Play, Josh Ritter
Since OBS team headquarters reside in the Mile High City, … Read More »