Tag: story
---

December 7th 2011 ~ The Catholic faith is universally oriented toward encountering the risen Christ on every continent of this earth, including the 'digital continent.' Young and old alike can take real fundamental steps toward a dialogue with the creator of the universe through and encounter with these 'one billion Catholic stories.' Perhaps you have always wanted to share your story of encounter with Catholicism, if that is true, then this website is the best online platform to accomplish your goal. First step, e-mail [email protected] to make it happen. Blessings
---

November 29th 2011 ~ When will our Catholic faith shine again up 'on the hill as a beacon of light?' I believe we are moving in that direction, thanks to young men like this gentlemen whom we met at the end of the Camino de Santiago in August. He is not afraid to wear his Catholic faith on his sleeve and perhaps you could do the same? How? Share this story with family and friends with a special note to accompany, then get out of the way and let the Holy Spirit do the rest. Till next time on the 'digital continent,'….tomorrow.
---

November 18th 2011 ~ God. Faith. Religion. Jesus. Scripture. Are we afraid of these words? Are the Catholic faithful afraid to talk about Jesus and his mission for our lives? NO, and today's story proves it. How are 1.2 billion Catholics going to share our story? Not CNN's story on Catholicism, not Brian Williams' story on the Pope, not Oprah's therapy session on findings one's purpose in life…No, the buck stops here, and it continues with Jason from Ireland. Thanks again to Steve for capturing this story. Pray for Steve, he is now biking!
---

November 17th 2011 ~ Without God, nothing is possible, especially with 2 million other youth around. Hear a story of faith and trust in God from the streets of Madrid and World Youth Day 2011. Luigi from New York depicts so well what it means to be a pilgrim on journey, not only at World Youth Day, but throughout our daily living wherever we call home. May our faith increase, as we decrease. OneBillionStories.com
---

November 15th 2011 ~ A Protestant of northern Ireland begins his story with difficult hurdles in the 'murder triangle.' Through a series of events he makes his way to Medjugorie and eventually gets the message of 'God is Love' through the Eucharist and the Catholic Church. Part I today from Dublin, Part II in two days. Thank Steve for his courage to 'get out of the boat' and go collect these stories!
---

October 21st 2011 ~ God works in miraculous ways. Today's story comes to you from Spain as Steve continues his epic journey for the mission of OneBillionStories.com. New stories everyday! E-mail [email protected] to share your story.
---

October 14th 2011 ~ Buzz word today, faithfulness, specifically God's faithfulness to everyone in the world, including this man. Hear Mark share his story from within the Catholic faith from Newark, New Jersey. •••• Want to help OBS sail into the future? Share these daily stories using the social networking buttons at the bottom of your screen. From the bottom of OBS' heart, truly we say together, it helps big time! Long term we will survive because you continue coming back daily for these stories, along with all your friends. "We are the Easter people, and hallelujah is our song!" - Blessed John Paul II
---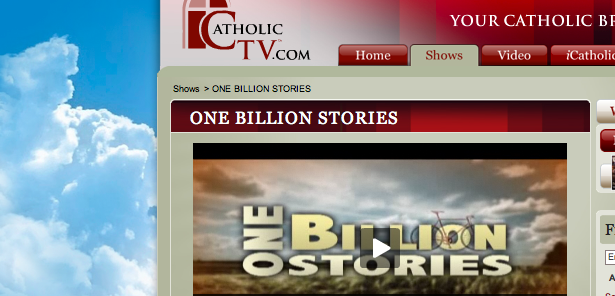 October 11th 2011 ~ Playing catch up on publishing the 'One Billion Stories' series on CatholicTV. A new episode is published every week and 'One Billion Stories' rolls on through the state of Florida and Alabama in this episode. There are a billion Catholics in the world, lets start sharing them through video, and now text. E-mail your story to [email protected], some photos would be great too!
---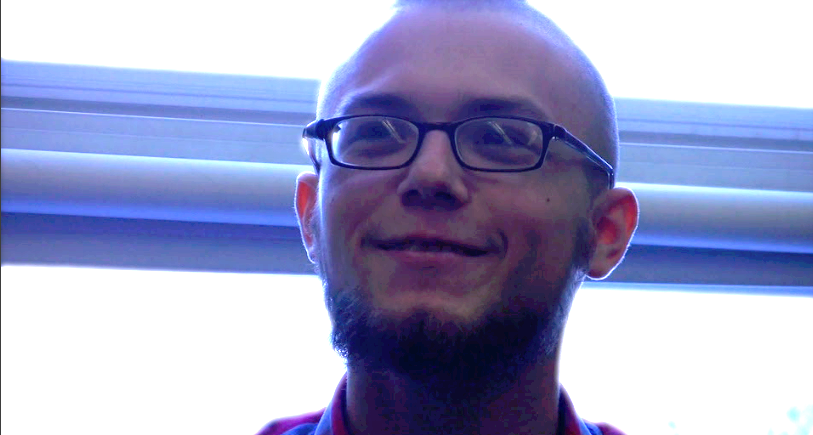 October 10th 2011 ~ Today we hear a Catholic story that did not start off Catholic. And once his story became Catholic, he still slipped away into the grey area of faith. Despite hiccups and hurdles for living out the faith daily, he managed to find his way to St. Paul, Minnesotta from Fort Worth, Texas, joining the NET Ministries team. Hear his full story next week as we bring you part two. And don't forget to check out www.netusa.org.
---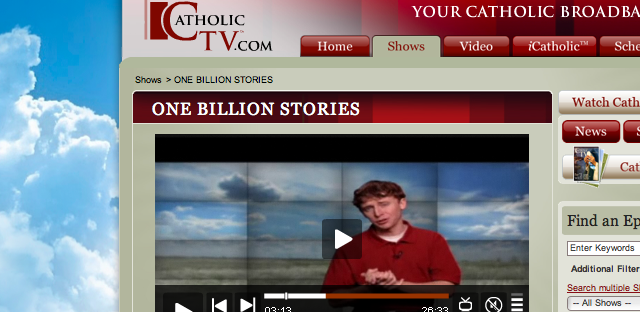 October 7th 2011 ~ The time has come for episode 3 for 'One Billion Stories' on CatholicTV! A new episode filled with Catholic stories airs every week on the Catholic TV network based out of Boston. Check back weekly for new episodes from the pilgrimage across the country and the launch of this global mission. Till next time…