Category: Mary
---

Part II from Pio Hartnett in Ireland shares his testimony from within the Catholic faith. Thanks to Video Missionary Adam Conroy in Ireland, our global team has begun seeking out and publishing the heart, soul, and future of the Catholic faith. Check back soon for more stories of faith from the great Catholic heritage of Ireland. Simply click on the location tab above and navigate to the 'Europe' section of this global Catholic mission.
God be praised, now and forever!
---

From the Emerald Isle, Video Missionary Adam Conroy publishes a story from a young Irishman who needed a boost in his faith life. That boost came from Medjugorje in Bosnia, where he visited with his family. After that experience took place, it was as if the sunglasses were taken off his eyes and he was able to see the world with a new perspective.
---

In the mountains south of Córdoba, Argentina, a very faithful Patricia shares her testimony of going to the nearby town of Alta Gracia to see the image of Mary that has appeared in the chapel at the Sanctuary of Our Lady of Lourdes. She explains the story of when the image first appeared to the priest, and shares her experience of going there twice and the peaceful presence of Mary that she felt. It is very interesting this 3D white light statue that is there, and no one knows for sure what it is or why it is appearing. Many people including us believe that it is Mary calling us closer to her son, Jesus.
---

In Alta Gracia, a small city south of Córdoba, Argentina, a rare phenomenon is happening. In August of 2011 a statue of Our Lady of Lourdes was removed from the altar to be restored and while the statue was gone, a mysterious image has replaced it. You can only see the image from the back of the church and the lights have to be off and doors closed to see it. When you get close to it, you can see that there is nothing there. It appears like a white light illuminating a statue of Our Lady of Lourdes, and many scientists and artists have come to try to figure out what it is, and no one can explain it. The Priests of the chapel have announced that there is no explanation for it. When it was made … Read More »
---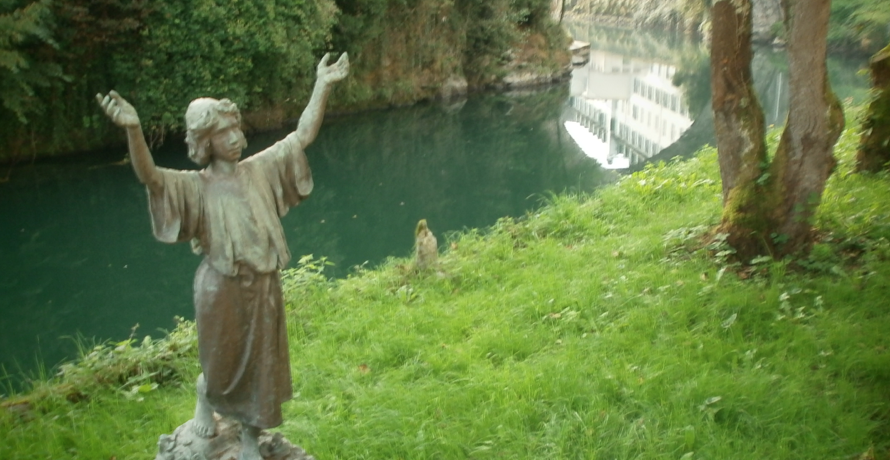 In France he encountered many beautiful churches, chapels, and basilicas, including today's footage from a location known as Betharram.
---

---

He continues to pursue the Catholic faith with ardor in Europe, whether it is in Ireland, Spain, Italy, or as in today's video, France.
---

This young Irishman was a loose cannon during his youth on the emerald isle, but it once again was the faithfulness of family that brought him through those years of rebellion.
---

---

Another note is that this Basilica is the largest sanctuary space in the world dedicated to Our Lady. In fact, Annie and Al went to a daily Mass with 5,000 people!