Finding My Catholic Voice via the Sinner's Chain
---
---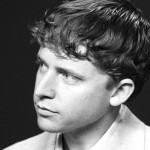 Seth J. DeMoor
Founder & Video Missionary in USA
GET UPDATES FROM SETH DEMOOR
Everyone has a Voice, a Story
'I Did not learn to speak until I was 4 years old.'
Posted on: 11th April 2012
ST PAUL, MN, USA — We all have a voice as Catholics in 2012. Thankfully, we have a unified Catholic voice that comes from Rome. How? Through the office of St Peter, the Petrine Office. Our faith has been protected and guided through the Magisterium for over 2,000 years now. That voice has certainly had to face many historical challenges throughout many centuries of world history. But that Catholic voice, now led by our beloved Holy Father Pope Benedict XVI, appears to be one of the few voices remaining in society that is willing to stand up for ultimate truth.

Today's Story



The guidance and inspiration of Pope Benedict XVI, and all the other bishops, priests, and religious of this world, have allowed the young man in today's story to find his voice. His name is Dan, and he grew up on a farm with four sisters and his parents. For certain reasons, which you will learn about in the video, Dan was unable to find his voice in the world until he was four years old. In time, his voice came. But an element of love was being withheld from him for many years of his life, until he encountered some authentic Catholic voices at South Dakota State University.
Connect
It was at the Newman Center at South Dakota State University where an encounter with truth came about. Thanks to some FOCUS missionaries, which you can learn more about by clicking on their logo on the left, Dan found his Catholic voice in the world. What is a Catholic voice? Listen to the video and you will find out. Even though his Catholic voice was discovered, Dan knew that his pilgrimage toward true joy and authentic love was just beginning. Since Catholicism boils down to a relationship with Jesus Christ, overcoming personal sin is a key element to presenting yourself at the service of Christ's mission on earth. Dan knows all about sin, and you may be a little surprised once you find out how he overcomes it everyday. Click play to learn how. Till next time on the 'digital continent', signing off.

OneBillionStories.com Contributor - Seth J. DeMoor
Related Stories


Yesterday's Story

Readings for 11th April 2012
First: Acts 3:1-10
Psalm: Psalm 105:1-2, 3-4, 6-7, 8-9
Gospel: Luke 24:13-35
Rosary: Glorious Mysteries
1. Resurrection
2. Ascension
3. Descent of the Holy Spirit
4. Assumption of the Blessed Virgin Mary
5. Coronation of the Blessed Virgin Mary
---
---